Choose A Newton CPO Vehicle
The benefit of choosing a Newton CPO vehicle over a standard used vehicle, or buying new, is that Newton CPO models come with a number of great features ensuring a level of quality you don't get from other used vehicles, but also at a much lower price than buying new. There is also a lot of work and dedication that goes into our Newton CPO lineup that ensures that you're getting the highest quality available vehicles on the market, regardless of the model, trim, year, or style of the vehicle.
One of our core tenets is ensuring that each Newton CPO vehicle that is available in our inventory has gone through a dedicated 170-point inspection, covering every mechanical and operational element of the vehicle. This process covers the airbags, seat belts, the frame, tires, wheels, engine components, fuel lines, electrical systems, suspension, and steering, as well as road-testing the vehicle to ensure that every component lives up to its test results. Any vehicle that has components that aren't up to par is properly repaired and reconditioned before making its way onto our lot. This means that you don't end up with a vehicle that needs more work after you purchase it.
What's more is that when it's time to purchase your Newton CPO vehicle, we can go over all of the inspection processes with you before you commit to buying the vehicle. This means giving our customers the chance to ask questions and have their concerns addressed regarding the work that was done on the vehicle, the parts that needed conditioning or replacement, and what to expect from the vehicle in terms of how it operates on the road and what regularly scheduled maintenance sessions will be like. All of this in addition to our 7-year/100,000-mile limited powertrain warranty, a 3-month trial of SiriusXM Satellite Radio, a CARFAX history report for the vehicle, and the added option to get an extended protection plan.
Why Newton Chevrolet Buick GMC?
With so many dealerships out there selling pre-owned vehicles, what makes Newton Chevrolet Buick GMC stand out, and why should you choose our dealership when buying a Certified Pre-Owned car, truck, or SUV? Well, it's all about customer satisfaction and quality. Any dealership can sell you a car, but not every dealership out there intends to sell you a quality car that will last you for years and comes backed by warranties to ensure that you're buying the utmost quality for the lowest price available. This is our commitment to you as a customer.
The warranties, the service, the inspections, and the reconditioning process that we put our Newton CPO vehicles through means that you are able to buy a CPO vehicle from our dealership with confidence. With added benefits from our Newton Advantage, featuring free maintenance, deals and discounts on service and parts, and protection offers, it means you have a robust safety net of options as a shopper when you visit our dealership. This all goes back to the cornerstones of our operating principles: we are a dealership built on the promise of being honest with shoppers, having integrity in the cars and services we provide, and utilizing teamwork to solve problems in order to meet the satisfaction of our customers.
The foundation of our operating principles isn't just words. A lot of dealerships may talk a big game but walking the talk is a completely different story for many of them. For us, we walk the talk, and that's why our customer satisfaction ratings continue to climb, as we have some of the best customer service ratings available, with 4.7 stars on Google and 4.9 stars on DealerRater. This shows that we are very serious about delivering high-quality customer service with a dedicated team willing to listen, learn, and assist shoppers in finding the right Newton CPO vehicle for a price that fits your budget.
Our Inventory of Newton CPO Vehicles
Making promises and having great service is only as good as the availability of what's being sold, and at Newton Chevrolet Buick GMC, we can proudly say that we provide access to a great selection of amazing Newton CPO vehicles. We offer a large variety of vehicles from multiple brands across different segments and price points. What this means is that for shoppers looking for a specific vehicle, from SUVs to trucks, we have a solution in our inventory that meets your requirement.
You can either browse, search, or request a Newton CPO vehicle that you want to drive. This includes some of the latest generation Chevrolet models, from the Camaro and Corvette for performance enthusiasts to sporty compact SUVs like the Trailblazer, perfect for those who need something versatile and stylish for daily errands or fun nights out on the town. When you need to put quality and safety first, the Chevrolet Traverse and Suburban are great CPO offerings for families and multiple-passenger travel accommodations.
With GMC, you have both rugged dependability and high-quality luxury all wrapped up into one highly functional package, whether you're opting for a Newton CPO Acadia for you and a few friends or looking at a GMC Terrain or Yukon for the family. Newton CPO vehicles automatically guarantee you a certain level of quality, but with GMC, that quality goes up a notch, and that's why we maintain access to Newton CPO GMC vehicles for those who want the rugged dependability of the Canyon or Sierra, with the luxury and prestige that comes with the Denali trims.
When it comes to luxury crossovers that are both economical and reliable, you go with Buick. Our inventory of Newton CPO Buick vehicles means that you have options when it comes to wanting to drive something that's roomy, boasts great fuel economy, and has plenty of refinement both inside and out. With Buick, you're never left wanting when it comes to comfort and feature-rich quality. At Newton Chevrolet Buick GMC, if you can't easily find the model year and trim of the vehicle you want, don't fret. We have an easy-to-use request form so we can get you the best deal on the exact Newton CPO model you want.
Get Financing at Newton Chevrolet Buick GMC
Financing is probably one of the last things most car shoppers want to think about, but it's one of the ways we make it easy to shop for a Newton CPO vehicle at our dealership. Why? Because we make the process easy, and an easy process makes it easier to shop for and buy what you want. Our work with various banks and lenders means that we can help you secure the auto loan you need for the Newton CPO vehicle that you want to drive.
Talk or chat with our financial experts to have all of your questions answered regarding financing for Newton CPO vehicles at our dealership. We can help secure the financing you need through your bank, as well as go over the ins and outs of finding the best rates that work for you, your family, and most importantly, your budget. The process may seem scary to a lot of first-time shoppers or those wary about using auto loans for a purchase, but we promise that we take all of the hassles and hurdles out of securing financing for a Newton CPO vehicle.
In fact, you can make use of our extremely easy-to-use secure form, which you can complete in just two very simple steps. Not only is the form easy to fill out, but it comes with no obligations! Yes, you can apply for financing, and we'll contact you at the earliest convenience, letting you know what your options are and how we can best serve you when it comes to finding a great loan option. Don't let past experiences or bad industry practices scare you away from securing an auto loan for your Newton CPO purchase. Contact us today at Newton Chevrolet Buick GMC to find out how we can help you get the loan you need.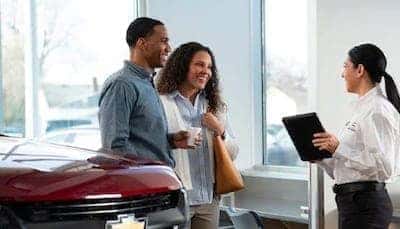 What work goes into a Newton Certified Pre-Owned Vehicle?
The bottom line of every Newton certified pre-owned vehicle is the 170-point inspection, ensuring that every inch of the car is inspected. If repairs are needed, we will cover these. The following (and more) are covered in the 170-point inspection:
Air Bags/Seat Belts
Unibody/Frame
Tires and Wheels
Engine/Fuel
Electrical System
Suspension/Steering
Road Test
Inspect & Repair
During this inspection, we decide what needs to be repaired. For example, if the tire treads are extremely worn down, we will go ahead and put new tires on the vehicle. During your visit with us, we will go over these details with you to make sure you know what work was needed and how we took care of the vehicle -- so that you don't immediately have service bills on top of your purchase! Please note that we do our best, but we do not claim perfection or that a vehicle will never have problems. Again, we will be very transparent up front about any issues we saw. Don't hesitate to ask us questions!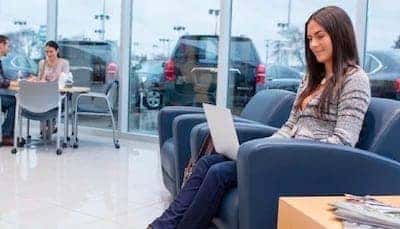 What's Included?
In addition to the work that goes into re-conditioning a used vehicle, we certify some of our used inventory so that you know you are getting even more value in your purchase with us. This Newton Certified Program includes:
7-year/100,000-mile Limited Warranty*
SiriusXM Satellite Radio 3-month trial
Optional Extended Protection Plan
CARFAX® Vehicle History Report™
At Newton Chevrolet GMC, we take pride in our
used inventory
. We don't just give them a car wash, a once-over, and park them out front. We make sure they are thoroughly ready to go before you make your decision and drive off our lot! Let us help you find your next Newton Certified Pre-Owned vehicle today!